Socket welding fittings according to ANSI/ASME.

Sandvik holds a large stock of stainless, forged, socket welding fittings in F304/304L and F316/316L (dual marked and certified). Sandvik's socket welding fittings are according to ASTM A182, ASME B16.11. Socket weld unions are according to MSS SP-83.

Sandvik's ASME 3000 lbs forged, socket weld fittings are white pickled with hardness according to NACE MR0175, IC according to ASTM A262E and PMI tested.

Sandvik socket weld fittings are certified according to EN 10204/3.1.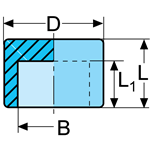 Caps, socket weld
ASTM A182 3000 lbs ASME B16.11 / BS 3799

Product code example:
FSCAP-316L-1-3000

• = stock standard


Nominal pipe size
B
L1
L

Weight

ASTM

in.
mm
socket
~mm
~kg/pce
316/316L
1/4
3/8
1/2
3/4

14.20
17.60
21.80
27.20

9.53
9.53
9.53
12.50

19.05
19.05
22.23
25.40

0.06
0.07
0.14
0.16

•
•
•
•
1
1¼
1½
2

33.90
42.70
48.80
61.20

12.50
12.50
12.50
16.00

26.99
30.16
31.75
38.10

0.30
0.45
0.55
1.00

•
•
•
•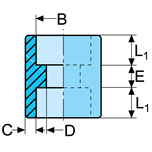 Couplings, socket weld
ASTM A182 3000 lbs ASME B16.11 / BS 3799

Product code example:
FSCO-316L-1/4-3000

• = stock standard


Nominal pipe size
B
L1
C
D
E

Weight

ASTM

ASTM

in.
mm
socket
mm
mm
mm
~kg/pce
304/304L
316/316L
1/4
3/8
1/2
3/4

14.20
17.60
21.80
27.20

9.53
9.53
9.53
12.50

3.30
3.51
4.09
4.27

8.86
12.14
15.42
20.55

6.35
6.35
9.53
9.53

0.05
0.10
0.14
0.20

•
•
•
•

•
•
•
•

1
1¼
1½
2

33.90
42.70
48.80
61.20

12.50
12.50
12.50
16.00

4.98
5.28
5.54
6.05

26.26
34.67
40.51
52.12

12.70
12.70
12.70
19.05

0.30
0.45
0.60
0.95

•
•
•
•

•
•
•
•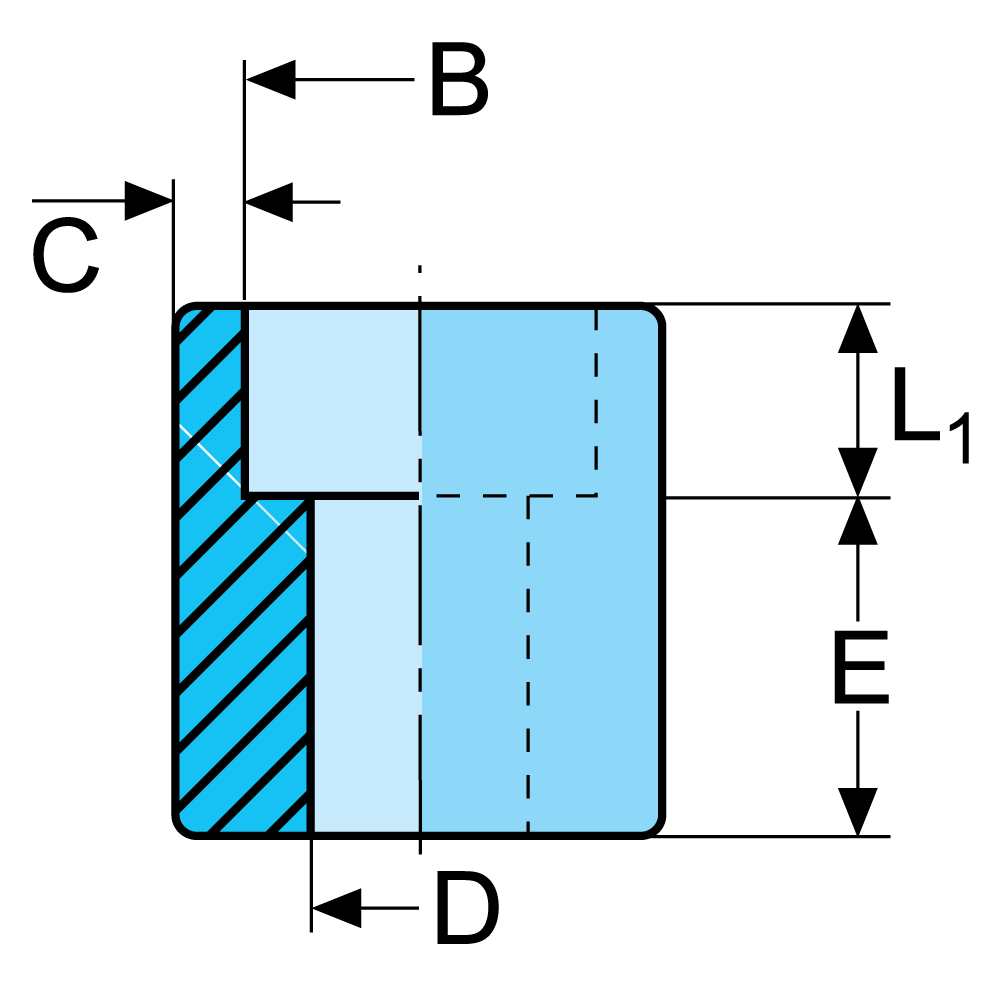 Half couplings, socket weld
ASTM A182 3000 lbs ASME B16.11 / BS 3799 Half couplings

Product code example:
FSHCO-316L-1-3000

• = stock standard


Nominal pipe size
B
L1
C
D
E

Weight

ASTM

ASTM

in.
mm
socket
mm
mm
mm
~kg/pce
304/304L
316/316L
1/4
3/8
1/2
3/4

14.20
17.60
21.80
27.20

9.53
9.53
9.53
12.50

3.30
3.51
4.09
4.27

8.86
12.14
15.42
20.55

15.88
17.46
22.23
23.81

0.06
0.11
0.15
0.21

•
•
•
•

•
•
•
•

1
1¼
1½
2

33.90
42.70
48.80
61.20

12.50
12.50
12.50
16.00

4.98
5.28
5.54
6.05

26.26
34.67
40.51
52.12

28.58
30.16
31.75
41.28

0.35
0.50
0.65
1.10

•
•
•
•

•
•
•
•
Reducing half couplings
Example of code used when ordering:
FSRCO-316L-3/8-1/4-3000

• = stock standard
Nominal pipe size
B
B1
L1
L2
C
D
E
Weight
ASTM
ASTM
in.
mm
socket
mm
mm
mm
mm
mm
~kg/pce
304/304L
316/316L
3/8–1/4
1/2–3/8
3/4–1/2
1–3/4
17.60
21.80
27.20
33.90
14.20
17.60
21.80
27.20
10
10
12.5
12.5
10
10
9.5
12.7
3.51
4.09
4.27
4.98
8.86
12.14
15.42
20.55
6.35
9.53
12.70
12.70
0.08
0.12
0.20
0.30

•
•
•
•

•
•
•
•

1–1/2
1¼–1
1½–1
1½–1¼
2–1½
33.90
42.70
48.80
48.80
61.20
17.60
33.90
33.90
42.70
48.80
12.5
13
13
13
16
10
10
10
10
12.7
4.98
5.28
5.54
5.54
6.05
15.42
26.26
34.67
34.67
40.51
12.70
12.70
12.70
12.70
22.23
0.30
0.40
0.50
0.55
0.95

•
•
•
•

•
•
•
•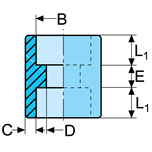 Socket Weld Elbows 90o
ASTM A182 3000 lbs ASME B16.11 / BS 3799

Product code example:
FSE-316L-1-3000

• = stock standard


Nominal pipe size
B
L1
C
G
D
A

Weight

ASTM

ASTM

in.
mm
socket
mm
mm
mm
mm
~kg/pce
304/304L
316/316L
1/4
3/8
1/2
3/4

14.20
17.60
21.80
27.20

9.53
9.53
9.53
12.50

3.30
3.51
4.09
4.27

3.02
3.20
3.73
3.91

8.86
12.14
15.42
20.55

11.11
13.49
15.88
19.05

0.09
0.13
0.25
0.32

•
•
•
•

•
•
•
•

1
1¼
1½
2

33.90
42.70
48.80
61.20

12.50
12.50
12.50
16.00

4.98
5.28
5.54
6.05

4.55
4.85
5.08
5.54

26.26
34.67
40.51
52.12

22.23
26.99
31.75
38.10

0.52
0.86
1.12
1.80

•
•
•
•

•
•
•
•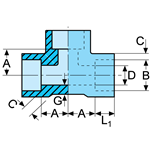 Tees, Socket Weld
ASTM A182 3000 lbs ASME B16.11 / BS 3799

Product code example:
FST-316L-1-3000

• = stock standard


Nominal pipe size
B
L1
C
G
D
A

Weight

ASTM

ASTM

in.
mm
socket
mm
mm
mm
mm
~kg/pce
304/304L
316/316L
1/4
3/8
1/2
3/4

14.20
17.60
21.80
27.20

9.53
9.53
9.53
12.50

3.30
3.51
4.09
4.27

3.02
3.20
3.73
3.91

8.86
12.14
15.42
20.55

11.11
13.49
15.88
19.05

0.11
0.16
0.34
0.41

•
•
•
•

•
•
•
•

1
1¼
1½
2

33.90
42.70
48.80
61.20

12.50
12.50
12.50
16.00

4.98
5.28
5.54
6.05

4.55
4.85
5.08
5.54

26.26
34.67
40.51
52.12

22.23
26.99
31.75
38.10

0.65
0.95
1.33
2.20

•
•
•
•

•
•
•
•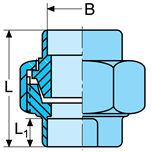 Unions, Socket Weld
ASTM A182 3000 lbs ASME B16.11 / BS 3799,
MSS SP-83

Product code example:
FSU-316L-1-3000

• = stock standard


Nominal pipe size
B
L1
L

Weight

ASTM

ASTM

in.
mm
socket
mm (nom.)
~kg/pce
304/304L
316/316L
1/4
3/8
1/2
3/4

14.20
17.60
21.80
27.20

9.53
9.53
9.53
12.50

44.4
46.0
49.0
56.9

0.20
0.35
0.40
0.45

•
•
•
•

•
•
•
•

1
1¼
1½
2

33.90
42.70
48.80
61.20

12.50
12.50
12.50
16.00

62.0
71.1
76.5
86.1

1.00
1.30
1.70
3.00

•
•
•
•

•
•
•
•